3/22/2020
Due to the extreme Coronavirus Pandemic and for the safety of our members, we will NOT have church services or youth activities at Tower Road Baptist Church until further notice. A video preaching service will be made available through our Facebook page: https://www.facebook.com/TRBCABQ/, and can be viewed at our regularly scheduled service times. A recording of the service will also be made available for you to watch at your convenience.
We have also completed and thoroughly tested the Gifting / Payments Portal, which is located in the upper right side of this website's menu bar. It is now ready to use for making secured online payments for Tithes/Offerings; Missionary support; and Christian Academy payments.
Please note that Tower Road Christian Academy will also be closed during this time. Students / parents will need to coordinate with teachers for class assignments and homework. During this time, the student dress code will not be enforced. 🙂
Thank you for your understanding. Now Stay Healthy and wash your hands often !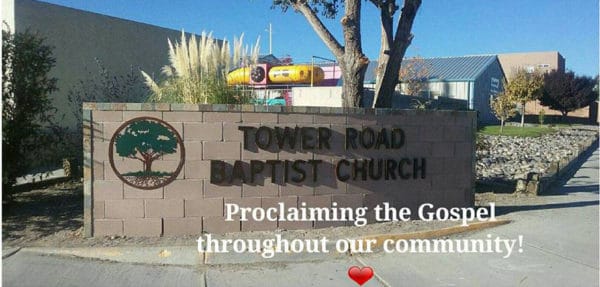 TOWER ROAD BAPTIST CHURCH is a local independent, fundamental, King James Bible-believing Baptist Church serving the people of the wonderful South Valley, West Gate Community, West Mesa, and the surrounding areas of Albuquerque, New Mexico since February 2005. We are a friendly, family-oriented church and welcome everyone who is looking for a place in which to worship our Lord Jesus Christ!
OUR MISSION is to be an extension of the Lord's hand by leading others to Him through the teaching of the Gospel of Jesus Christ and sharing His gift of salvation.
We would love to meet you! If you are in town visiting or if you are looking for a new church home, please come visit us!
You'll be glad you did!